Pastor H. Bruce Maxwell...
---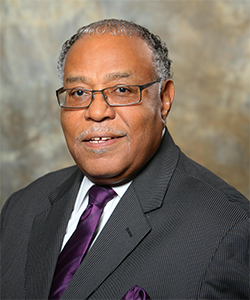 Reverend H. Bruce Maxwell, a native of Nashville, Tennessee, was born on August 7, 1951 to the late Reverend H. C. Maxwell, Sr., and Mrs. Flora Jordan Maxwell.  He was educated in the Davidson County School System, and furthered his academic pursuits at Emmanuel Bible College and Seminary, where he earned the Bachelor and Master of Theology degrees.
He accepted Jesus Christ as his personal savior at an early age, and was baptized into the Lake Providence Missionary Baptist Church under the dynamic leadership of Reverend S. H. Simpson.  Prior to accepting his call to the ministry, he served as Sunday School Teacher, Assistant Sunday School Superintendent, and President of the Echoes of Jericho Choir.
In the spring of 1974, Reverend Maxwell received and accepted his call to the Gospel Ministry, and delivered his first sermon on June thirtieth.  Shortly thereafter, he was licensed to preach the "Word of God."  On September 10, 1976, Reverend Maxwell was elected Pastor of the Lake Providence Missionary Baptist Church where he has served diligently for thirty-eight years.  During his tenure, the church has grown from a diminutive membership to over 4,000.  Pastor Maxwell has a passion for preaching and truly believes in equipping the saints with the armor they need to live full spiritual lives.
In addition to the vast responsibilities of being Pastor, he serves in various capacities at Southern Hills Medical Center:
Board of Ethics Committee
Chaplain on Call
Board of Trustees
 
On December 14th 2007, Pastor Maxwell was nominated to the Board of Trustees at Belmont University.  In January 2008, he was officially installed as member to the Board of Trustees where he is currently serving a second term.
Pastor Maxwell is married to his life partner, Mrs. Evon Maxwell.  This union has been blessed with two daughters, Michelle Zeigler, Courtney Kinslow; two granddaughters, McKensey and Morgan.